Emma Lapkina
Product designer
Streaming service today
UX-research and in-depth interviews
Research goal
While learning UX-research, I decided to study a market of streaming services to understand what matters for today's users and what problems they encounter the most.
In the end I got quite a big decent research including:
Users' personal profiling

Assumptions about users' needs

4 in-depth interviews

Useful insights and conclusions
1
Segmenting the target audience
Research preparation
At first, it was important to set the goal for our research, and then find the methods to do it.
Understanding personas for the in-depth interview

Formulating hypotheses

Creating the respondent's brief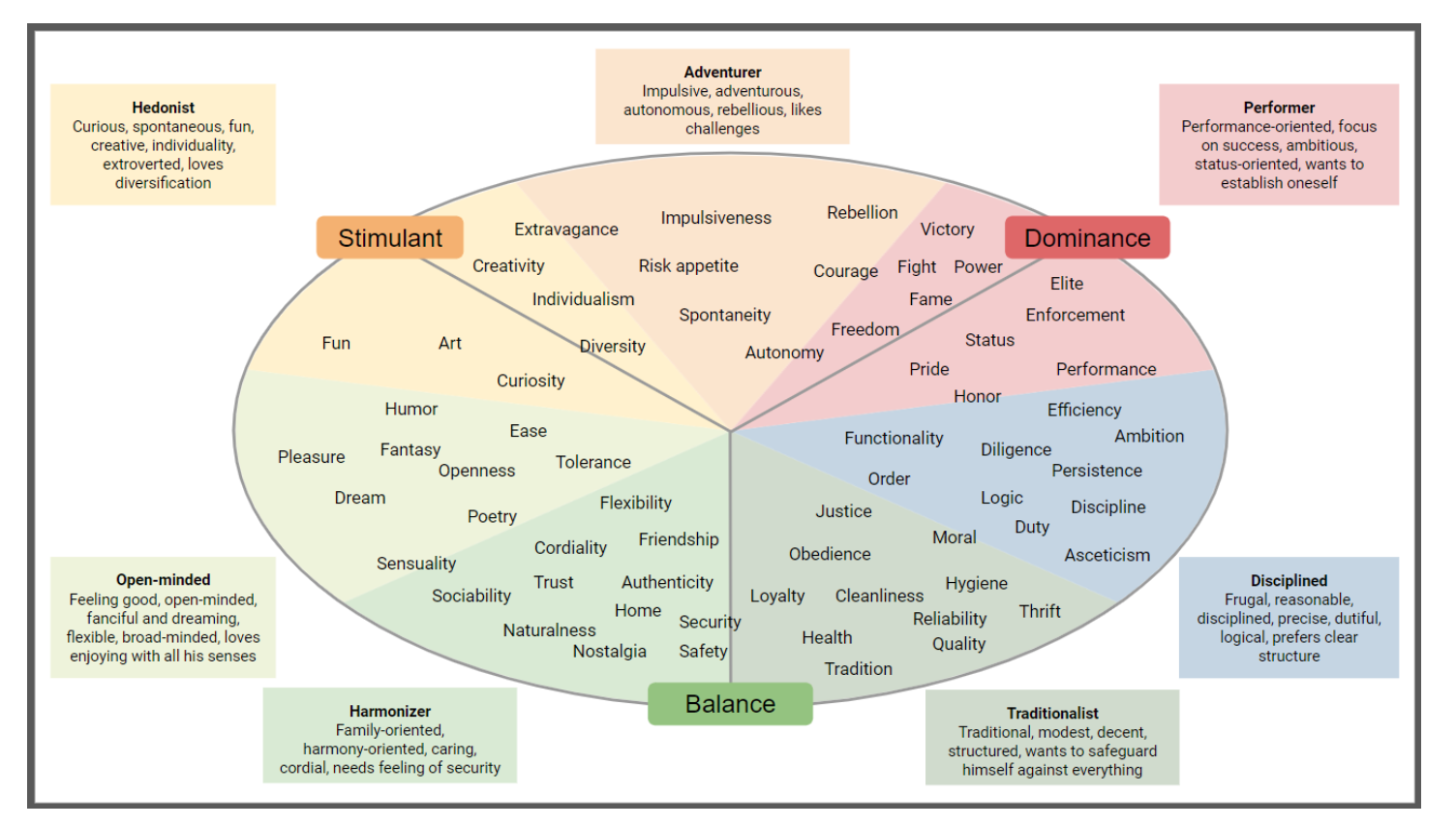 Target Audience Segments and Personality Types
Based on the personality types segmentation map, I identified three personality types dominating in the target audience:
Adventurers and Performers — they enjoy new emotions and experiences, crave for useful and unique content, try out everything modern and unusual; they are concerned about the product's status and quality level, and need a possibility to socialize.
Dreamers — are in for something new, but value stability. They enjoy comfort and open-mindedness, and perceive the world through their emotions.
Harmonizers — love spending time engaging in different activities with their family, look for stability and safety.
Potential Target Audience:
Men and Women 18-26, single or in unregistered relationship, educated, living a healthy lifestyle in big cities, monthly income no less than 70 000 ₽ ⟶ Performers and adventurers
Men and Women 25-35, single or in unregistered relationship, no children, with higher education, living in big cities, monthly income no less than 50 000 ₽ ⟶ Dreamers
Men and Women 35-55, with children, living in big cities or suburbs ⟶ Harmonizers
E (30:10): Have I got it right that if Netflix had more films and easier categories navigation you would've used only this service

B: Sure. It's the most convenient on any device: computer, smartphone...
One of the respondents on Netflix (style and spelling of the original are kept)
Hypotheses for the expectations of every segment:
Performers and adventurers: look for good quality content, convenient interface with a possibility to share with their friends, social elements
Product hypotheses for the Adventurers:
would like to rate shows and make their watching history public

would like to comment and write their own reviews

would like to leave comments
Dreamers: would like to have an understandable service in any circumstances
Product hypotheses for the Dreamers:
would like to rate shows and make their watching history public

would like to save their content offline

would like to leave comments
Harmonizers: want to get the best suitable content for different categories (for kids, teenagers and their parents) in one place with the simple directions
Product hypotheses for the Harmonizers:
would like to have different accounts with one subscription
Questions for the interview
I made several general questions, questions concerning the category, product and the using circumstances.
Where the respondents watch their films/series for now
Results:
— Only performers and adventurers would like to track their watching history, and do this outside of the platform since they do not want to mix social media with the watching experience. Most of the respondents spoke in favour of leaving the content consumption their private sphere which they would like to share only in certain forms (group chats or facebook posts)
— Only one person wanted to rate shows (performer)
— 4 out of 4 respondents wanted to download content for offline watching or use an alternative player for slow connection
— 3 out of 4 respondents wanted to have their personal account inside one subscription. Couples are ok with having a single account.
I wish the service communicated with me as if I was a child. I don't want to think in the evening
One of the respondents (style and spelling of the original are kept)
Summary:
All of the respondents mentioned that they have to switch between different services since none of them is able to fully satisfy their needs. This makes them track their subscriptions, update or cancel them, which is not very convenient.
The biggest blocker-like difficulties:
— video player problems (doesn't remember the timecodes where the user stopped watching series or films, troubles with subtitles, etc)
— search problems (no advanced search for different episodes or seasons)
— content problems (international content is on one service, Russian films on the other, films and shows are in different streamings)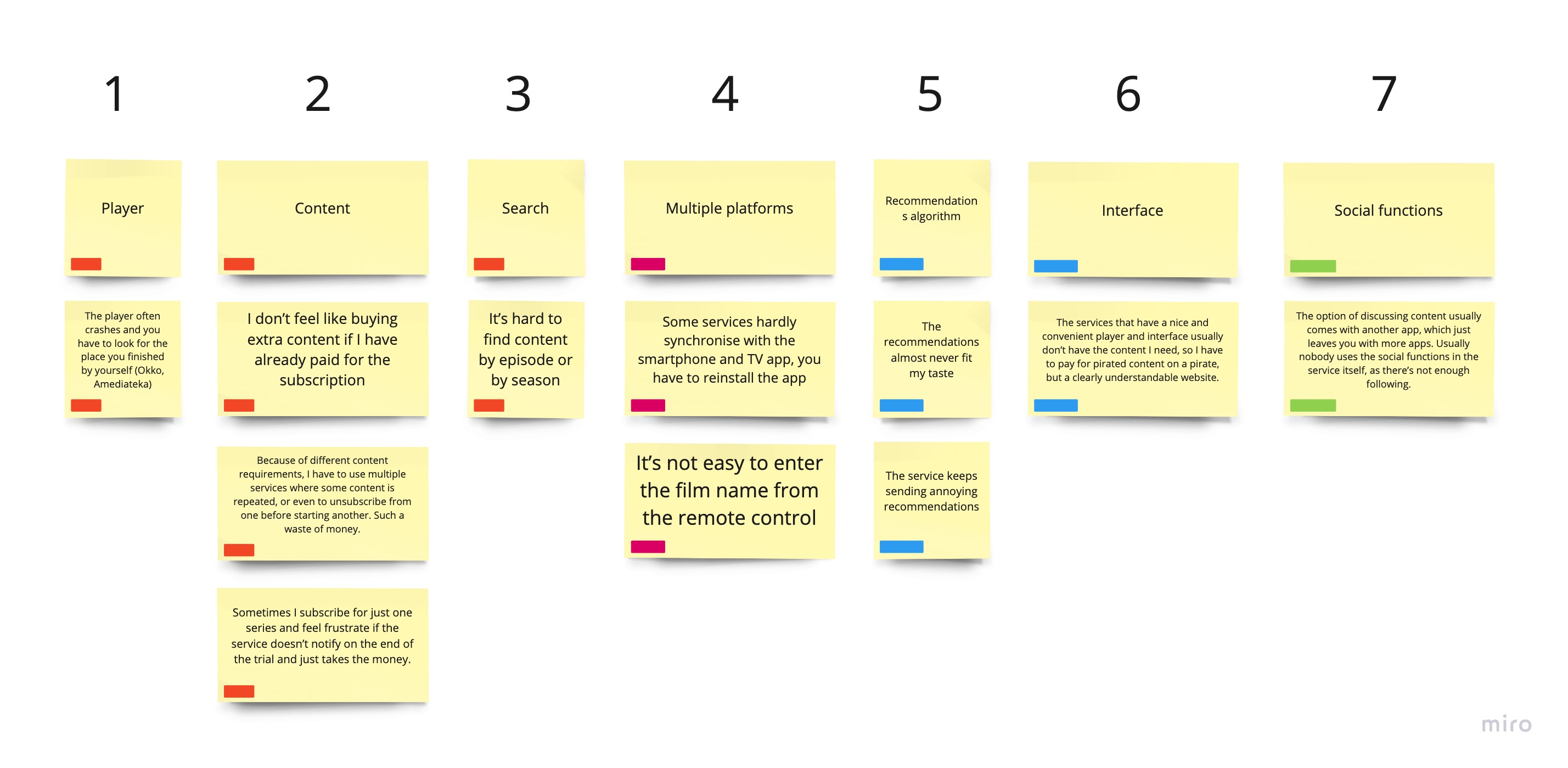 What is important:
— original, russian and foreign content in high quality (at least 720p no matter the subscription plan)
— a video player that remembers everything
— simple catalogue navigation that allows finding films by one or several keywords, seasons or series, with a system of hints if the user forgot the exact title
— a free basic subscription with an option of upgrading it or adding content if needed
— minimalist interface
— possibility to buy content without changing the service
What's not really important:
— Social aspect (people are more used to sharing and discussing media in private messaging, at least if they are not bloggers)
— Ratings and reviews (everyone checks out the ratings on iMDB, but not everyone enjoys leaving public reviews)
Research results
I created a Trello dashboard to assign colours to the cards and filter them by respondent and insights.
Skills and experience
I have learned to carefully gather information from the respondents using different platforms, arrange and analyse it, receive feedback and use it in future hypotheses testing concerning the features and values of modern streaming platforms. This was useful not only for my communication skills, but also for my design knowledge.