Emma Lapkina
Product designer
Building a safe purchasing environment in the Avito chat
A CJM task for Avito e-commerce platform
The Task:
Avito is the most popular website for classified ads in Russia (and the second in the world after Craigslist). Its rapid growth and great success are a direct result of the service's safe payment guarantee, which is valued by sellers and buyers alike. My job was to build pleasant, secure and transparent customer journey maps for the both parties on Avito's web and mobile platforms.
I focused on creating a simple communication algorithm – a buyer pays with their credit card online and a seller receives money on theirs in the app - minus foul play and meetings in dark parking lots. Here is how I did it.
Creating an object model:
First, let's determine the range of actions each party can perform in the chat:
Buyers can:
Pay for an item

Start auctions and place bids

Accept an item

Reject an item
Sellers can:
Request payments for items

Accept or refuse bids

Cancel auctions
The highlighted nouns give me an idea of the overall process topology. Now, let's add the vitals - content and metadata.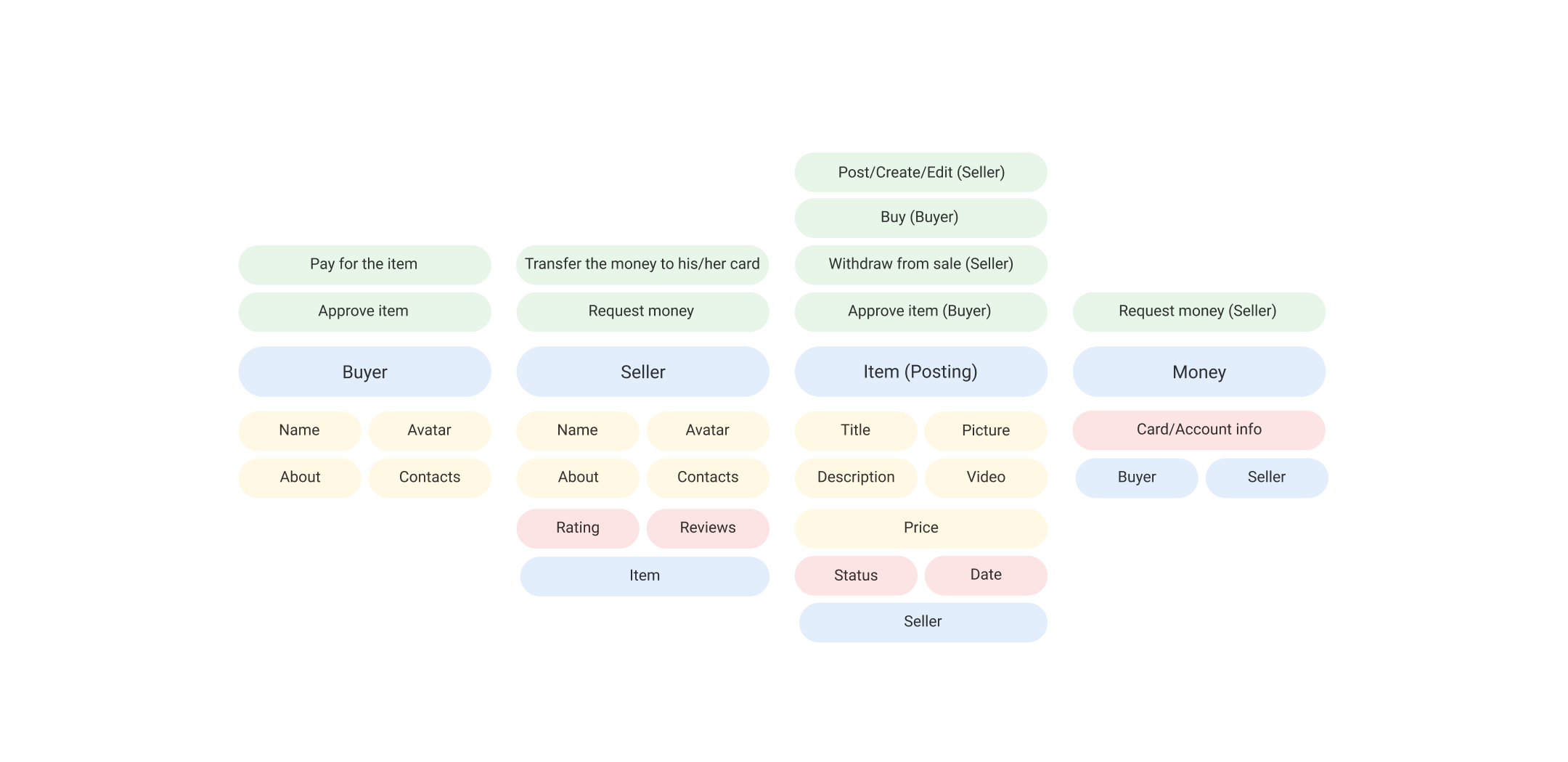 Less worries - happier shopping. Taking users' wishes on board
A Buyer's main objective is to receive the exact item pictured, not a version of it which is damaged or has a different colour. (деффектами - здесь нет 2х "Ф", исправь в русской версии). Buyers need time to carefully inspect the product in a no-rush, no unexpected money loss environment and a guarantee that they can reject an item before a payment is made.
A Seller's main objective is to close the deal safely and to avoid unnecessary bargaining in the above mentioned dark parking lot. When the payment process is simple and a seller sees money on their account they feel safe and protected by the platform.
Purchase User Flow for both sides:
When the bidding process is complete and the price is set a Seller requests a payment in the chat.
↓
A Buyer enters their card details and transfers the money to Avito, where they are kept on hold until a Buyer receives their item and confirms its authenticity.
↓
When a Buyer confirms that they have received the correct item Avito transfers the payment to a Seller's bank card.
↓
If an item does not match the description a Buyer has a right to reject it. In this case the whole payment amount is returned. Shall a Buyer consider accepting an item on a condition of a price they can place a new offer in the app. A Seller can accept or reject the new price. If a Seller accepts the offer, then a Buyer gets the excess payment back on their bank account.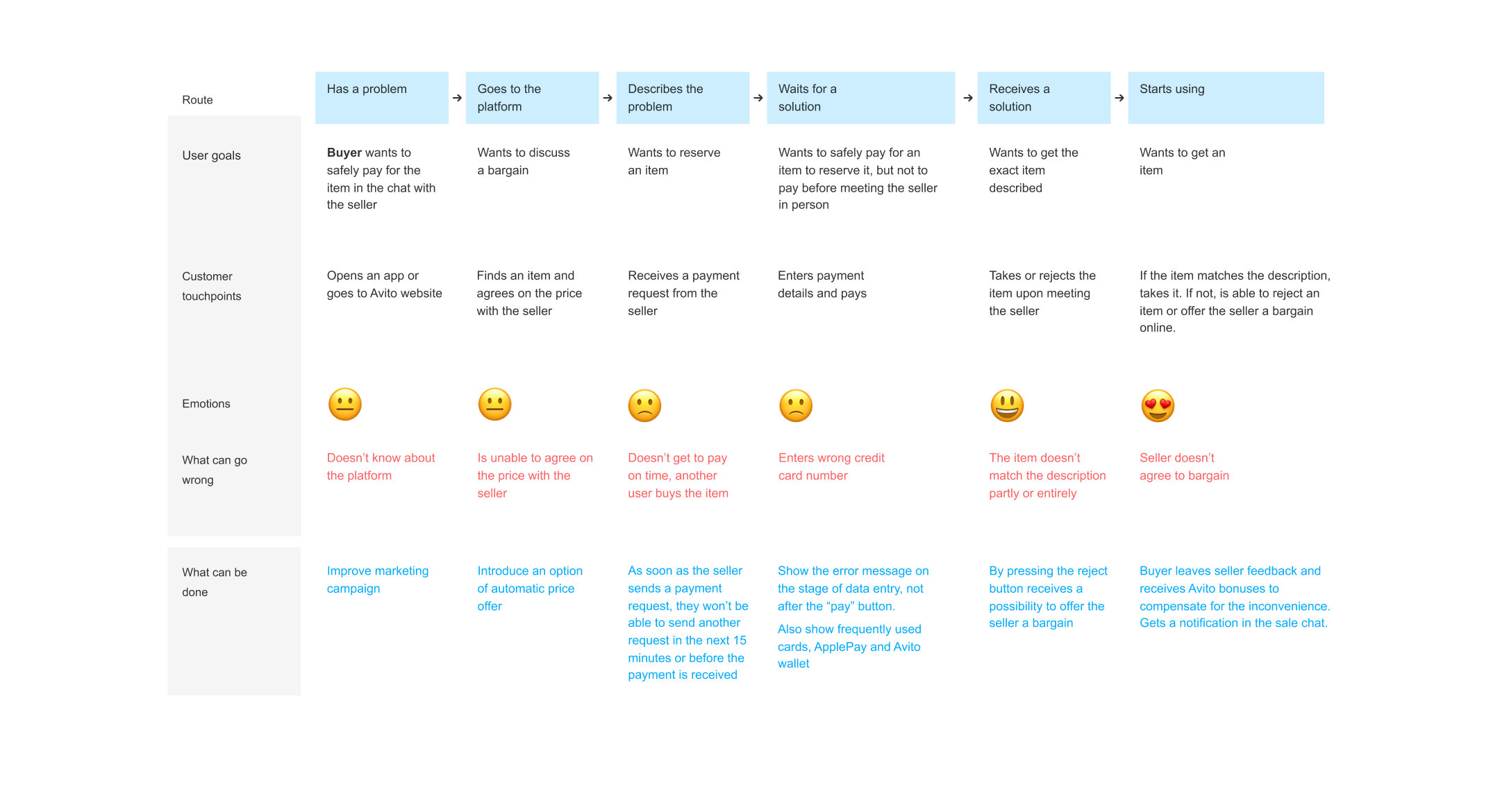 Buyer's CJM:
In order to ensure Buyer's satisfaction on each level of their user journey, I have determined their key actions and goals for every interaction.
A Buyer wants:
To quickly find the desired item ⟶ To find what they are looking for in the catalogue

To agree on a price with a Seller ⟶ To perform bidding

To fix a price ⟶ To reserve an item

To quality-check a reserved item ⟶ To inspect an item

To have options for further actions ⟶ To reject an item or to offer a new price, shall an item deviate from the original description.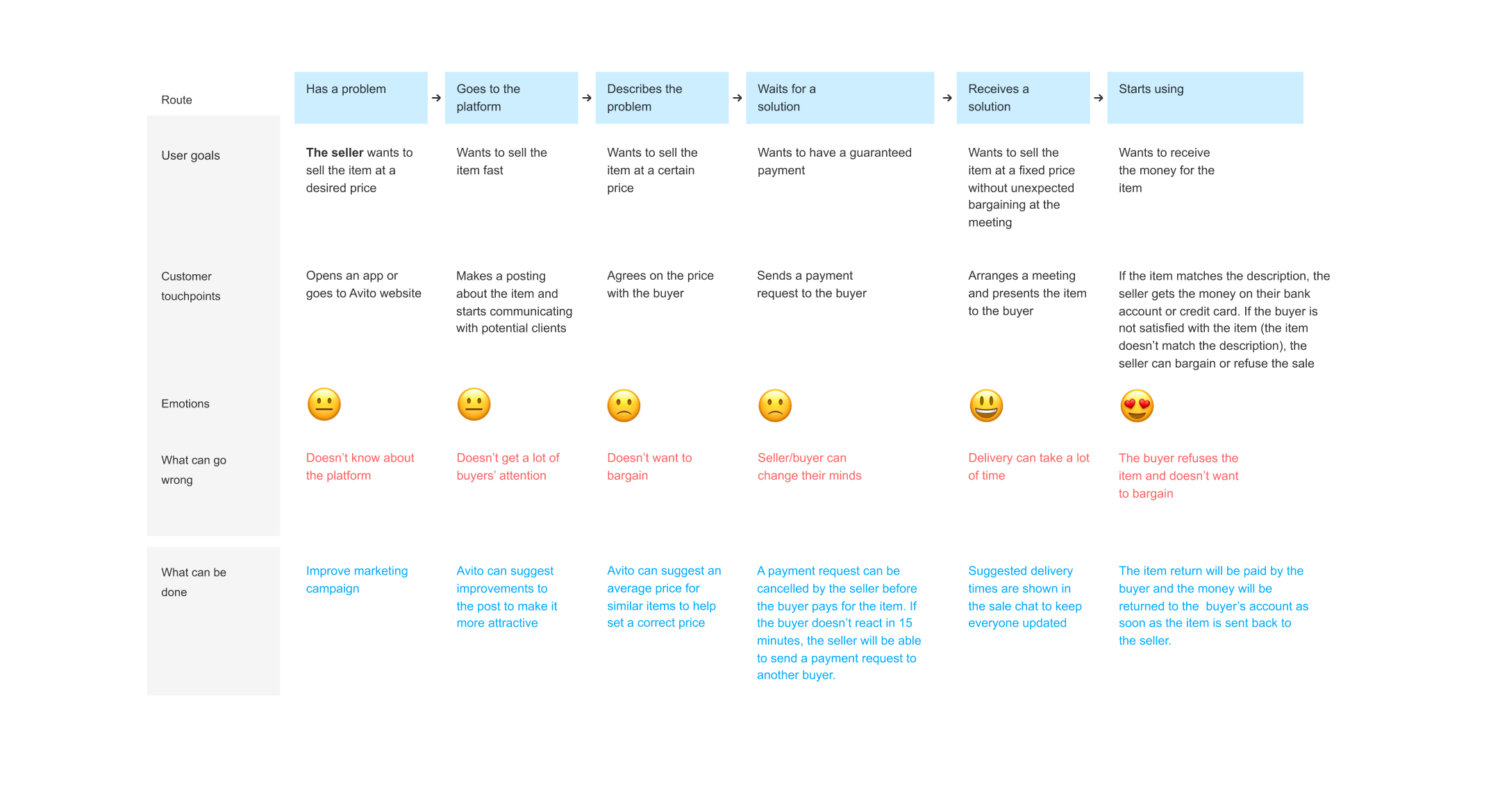 Seller's CJM:
Similarly to a Buyer, I have studied and determined the Seller's main wishes and goals throughout the purchasing process.
A Seller wants:
To quickly list an item ⟶ To complete the item form

To agree on a price with a Buyer ⟶ To perform bidding

To fix a price ⟶ To send a payment request to a Buyer

To deliver an item to a Buyer ⟶ To ship/ send/ show an item

To have options for further actions ⟶ To cancel a purchase or perform further bidding, shall a Buyer refuse to buy the product for a previously-fixed amount.
Project's takeaway:
What excited me in this job was an opportunity to research and find the blind spots in the journey, where the users need extra help or assistance, and consequently to build an experience with no uncertainties for the users. There are two parties involved in the Avito's selling/buying process and each side has to be catered for with careful planning, attention and support. It was a very interesting quest to inject positivity and clarity into a process which is known to be stressful and burdensome. As a professional, I was stimulated on each step of the way from research to designing visual elements and copyrighting.
The vital part of it was to correctly analyse the company's brief, considering my limited access to information. Additionally, I enjoyed working with Avito's extensive components library.